About Lok Sangrahalaya
This is a one-man institution, and the man behind it is Padmashree Awardee Dr Yashodhar Mathpal. Folk Culture museum near Bhimtal was established by Yashodhara Mathpal Ji in 1983 at a distance of 6 Km from Bhowali and 5.1 Km from Bhimtal.
One man Institution means, the whole project is designed and formulated by him without any Government help.
The motto behind this institution is to promote the diverse and rich culture of Uttarakhand.
Folk museum is divided into three very unique and specific galleries.
One belongs to the cultural gallery which represents nature and heritage painting.
The second Gallery belongs to the cave art gallery, which is very unique and different. Dr Yashodhar Mathpal spent 30 years in various caves of Madhya Pradesh and made more than thousands of cave paintings. He was awarded by Padmashree because of his hard-work and excellency.
And, the third gallery belongs to the Tibetan, Folk and Tribals arts gallery.
I'll recommend you to visit this museum on your trip to Bhowali or Bhimtal.
Delhi To Folk Culture Museum Cab Price Online
If you're one of the people who love to know about historical ancient culture, old customs and lifestyle. Then, the tour of this Museum will make its place at the bottom of your heart.
We provide daily ridesharing and personal cab service, from Delhi to Folk Culture Museum of Bhimtal.
JoshiCabs have unbeatable rates all over Uttarakhand. "We'll offer you a free ride If you get a deal at a price lower than us" – JoshiCabs
Vehicle
Seating Capacity
Fare
Hatchback
(WagonR, Alto, Celerio)
4+Driver
Rs 3747/-
Sedan
(Dzire, Xcent, Amaze)
4+Driver
Rs 3747/-
MUV
(Ertiga, Marazzo, XL6)
6+Driver
Rs 4647/-
SUV
(Innova, Crysta, Lodgy)
7+Driver
Rs 5647/-
Luxury
(BMW, Audi, Volvo)
4+Driver
On Request
How to Reach Folk Culture Museum
Folk Culture Museum is near enough to Bhowali and Bhimtal.
If you have a plan to visit by train or flight, then the nearest railway station and airport are Kathgodam Railway Station and Pantnagar Airport, both are at a distance of 25 and 61 Km.
After arriving at Kathgodam or Pantnagar, you have to hire a taxi to complete the remaining journey, or you can travel via local buses. Flights to Pantnagar Airport are very few in a month.
You can book our cab service from Katgodam or Pantnagar, at very affordable and unbeatable rates.
Distance of Folk Culture Museum, Bhimtal
The distance of this magnificent place varies from different departures. And, most popular departure points and their distance from the Folk Culture Museum are as follows :
| Departures | Distance |
| --- | --- |
| Bhowali to Museum | 6 Km |
| Nainital to Museum | 18.7 Km |
| Bhimtal to Museum | 5.1 Km |
| Haldwani to Museum | 30.1 Km |
| Almora to Museum | 59.2 Km |
| Delhi to Museum | 324 Km |
Distance Chart
Why Choose JoshiCabs
JoshiCabs is serving with more than 95 fleets in routes of Delhi and Uttarakhand, We don't charge return fare on your oneway ride or sharing ride – "Return Fare isn't fair" and "Unbeatable rates"
Where to Stay in Bhimtal?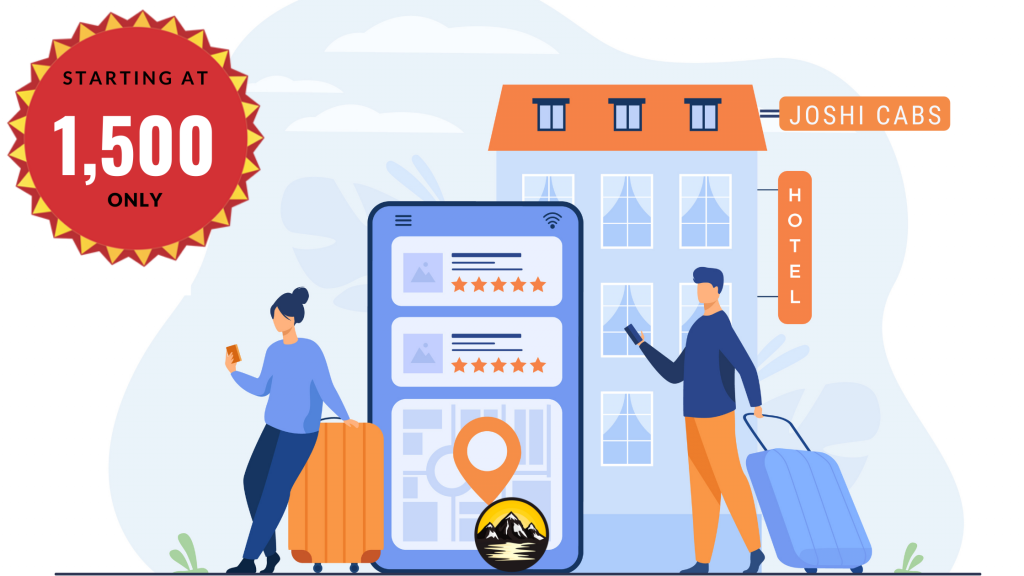 The trendy places near the Folk Culture Museum are Bhimtal and Bhowali. And, both places are well known for their tourism.
In these two cities, you can easily get deluxe, super deluxe and economical rooms which start onward at Rs 1500 and ends up to Rs 15,000.
There isn't much difference in all these hotels mentioned in the list. These hotels have services at their best.
Note: The prices will be told on Inquiry can be changeable in respect of season and time. Get updated rates of the hotel before 2 days of your trip.
Best Hotels Near Folk Museum