The Kainchi Dham Ashram is considered as one of the best gems of Uttarakhand, established in a meander of Kosi river, and roosted in elevation of 1400 Metres. This Ashram is genially devoted to an enlightened spirit known as, Neem Karoli Baba, because of him, this place is also known as Neem Karoli Baba Ashram. Delhi to Kainchi Dham Ashram is one of the popular routes of JoshiCabs.
The Ashram of Neem Karoli Baba is reclined on a corner of Nainital District, and only 23 Kms ahead of Nainital on Bhowali-Almora road. Read More….
Delhi to Neem Karoli Baba Ashram – Kainchi Dham
Cabs are the most convenient, affordable and time-saving mode to reach Neem Karoli Baba Ashram. Uttarakhand Volvo buses have one ticket of 900 Rupee on other hand, Joshi Cabs provides a oneway cab for 4 people on Rs 4297. There are no hidden charges on this fare. Hurry Up! Book your Cab now with us – JoshiCabs!
Vehicle
Seating Capacity
Fare
Hatchback
(WagonR, Alto, Celerio)
4 + Driver
Rs 4297/-
Sedan
(Dzire, Xcent, Amaze)
4 + Driver
Rs 4297/-
MUV
(Ertiga, Marazzo, XL6)
6 + Driver
Rs 4797/-
SUV
(Innova, Crysta, Lodgy)
7 + Driver
Rs 5797/-
Luxury
(BMW, Audi, Volvo)
4 + Driver
On Request
Delhi to Kainchi Dham fare chart

Delhi to Kainchi Dham Distance
After reading lots of above, you must be intending to know about – "Kainchi Dham distance from Delhi ?" and "Delhi to Neem Karoli Baba Nainital Distance?"
Considering Delhi and Kainchi Dham, Uttarakhand as your point of departure and point of arrival, the distance between these two vacation places are 325 Kms.
You can reserve us to go the distance of Kainchi Dham in short, Joshi Cabs offers services including, oneway cab service, 24*7 customer service and lowest time scale of 7 hours on usual traffic in the route of this delightful Dham.
Frequently Asked Questions (FAQs)
Nowadays cabs are very convenient, safe, affordable & less time-consuming mode for visiting Kainchi Dham, Neem Karoli Baba Ashram from Delhi.
JoshiCabs provides door to door cab pickup & drop services with 24*7 availability in Delhi & Kainchi Dham route.
Taxi Fare From Delhi to Nainital :
1. One-way taxi fare for Delhi to Nainital is Just INR 4297/- with 24*7 availability.
2. Round trip fare for Delhi to Nainital to Delhi is Just INR 8500/- with 24*7 availability.
Kainchi Dham, Neem Karoli Baba Ashram remains open every day of year however, timings gets change in winter & summer season.
Winter timings are : 06:30 AM - 06:30 PM
Summer timings are : 05:00 AM - 07:00 PM
Yes, you can stay at Kainchi Dham Ashram. To stay in Kainchi Dham, you will have to write a letter to Kainchi Dham committee before 15-20 days for permission of staying at ashram.
After receiving approval from committee, you will be able to stay at ashram for maximum 3 days.
Where to Stay in Kainchi Dham?
Hey! Before making your introduction to lots of hotels here, I wanna share a line about Maharajji's by his disciple.
"Crowd attracted towards him. not because of his mystical magics but his simplicity and no show-off rule as a result, he induced many."
Here, is a list of some hotels, you can book the hotel of your choice!!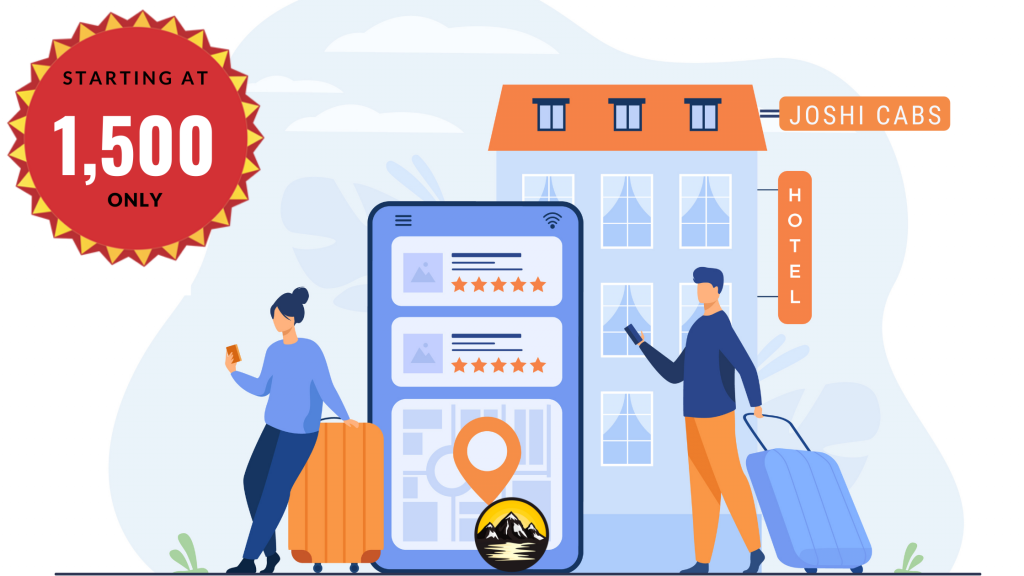 Best Hotels Near Kainchi Dham
The Rates of hotels, displayed above are the lowest of all time, these are changeable with respect to time and tourism. Feel free to inquire with us before heading towards the booking.
Why Choose Joshi Cabs?
JoshiCabs is serving since 2014, in all routes of Uttarakhand and Himachal. We started with one fleet and now we're working with 80+ vehicles. We have 24*7 Customer Support and provides assistance under 15-minute assistance on every road of Uttarakhand. Feel free to book us for your hometown visit, pilgrimage outings, weekend outings and corporate trips.