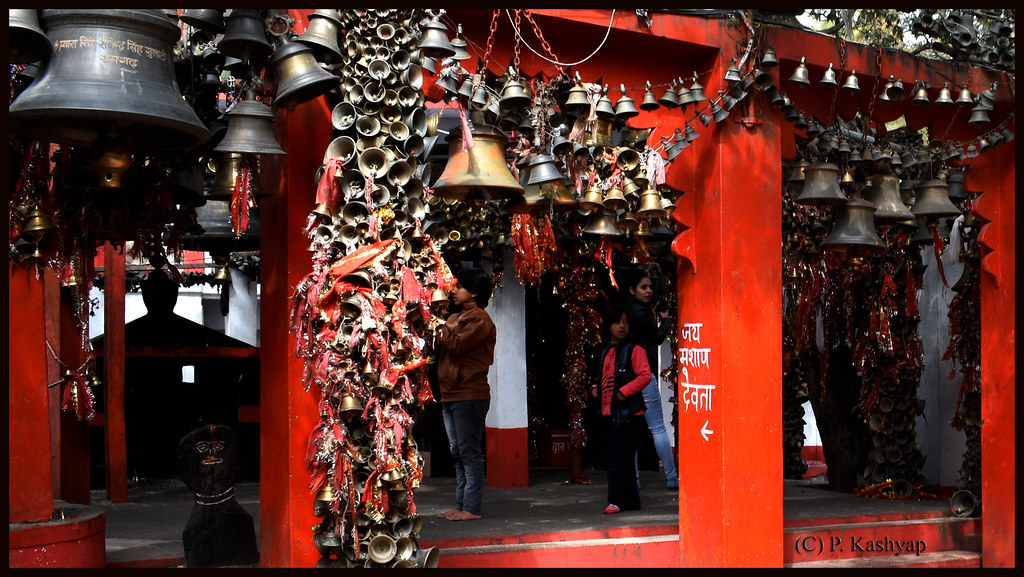 Ghorakhal Golu Devta Temple Nainital (Bhowali)
It won't be wrong, If I'll name this place a land of the sacred soil because, This soil has been giving a lot of Army Officers to the Nation every year from Sainik School Ghorakhal, with the blessings of Ghorakhal Golu Devta Temple.
Another reason to call it the land of sacred soil is because of this magnificent temple, having thousands of bells, and letters hanging from entrance to end that's why this temple is trendy in name of Temple of Bells.
The Ghorakhal temple is devoted to the incarnation of Lord Shiva who is known as Golu Devta and the village Ghorakhal is a patch of some houses which is established at a distance of 17.3 km from Nainital and 41.5 Km from Haldwani.
The word Ghorakhal derives from a "pond of water reserved for horses".
It's the recognition that Golu Devta is "God of Justice" and it's true in all of the cases, that is the reason for hanging letters on premises of the temple. It's the belief that you can ask for any justice, by writing your problem on simple white paper or on stamped paper.
When You get what you want, you have to offer a bell or sacrifice on the premises of Ghorakhal Temple. Golu Devta is lar(Kula Devta) of many people in the Kumaon region of Uttarakhand. This temple remains full of devotees every day, adherent visits from various regions of the nation for their Justice.
Delhi To Ghorakhal Cab Price Online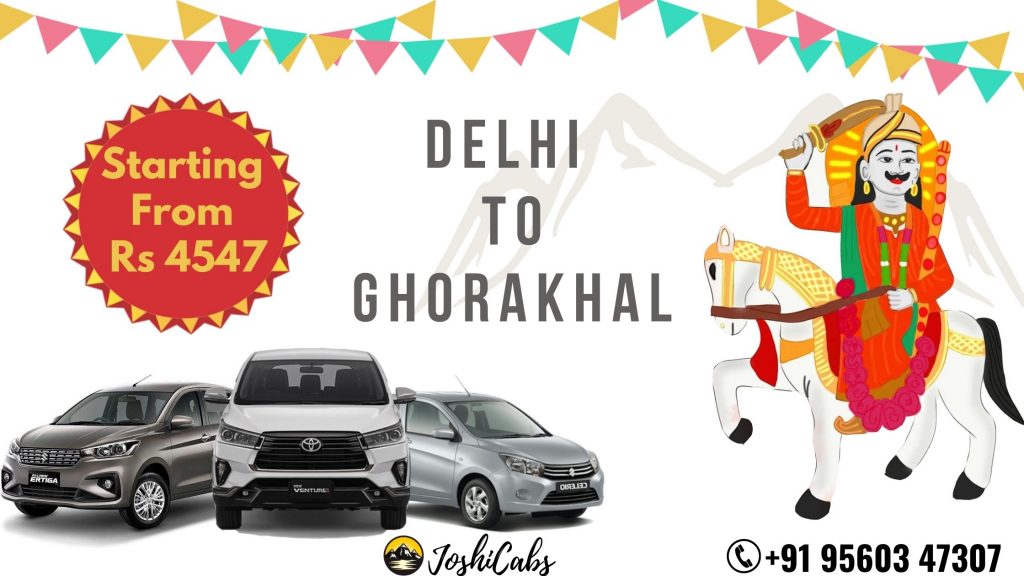 If you're one of the people who loves exploring adventurous temples. Then, the tour of this temple will make its place in the album of your best memories.
Joshi Cabs provides personal cab or ridesharing cab in all routes of Uttarakhand. While, In this region of Nainital, booking a personal cab is better than waiting for a sharing cab.
We are active in all state, cities, villages and towns of this Nation. Book your cab just on a call!!
Vehicle
Seating Capacity
Fare
Hatchback
(WagonR, Alto, Celerio)
4+Driver
Rs 4547/-
Sedan
(Dzire, Xcent, Amaze)
4+Driver
Rs 4547/-
MUV
(Ertiga, Marazzo, XL6)
6+Driver
Rs 5447/-
SUV
(Innova, Crysta, Lodgy)
7+Driver
Rs 6447/-
Luxury
(BMW, Audi, Volvo)
4+Driver
On Request
Ghorakhal Fare Chart

How to Visit Ghorakhal Golu Devta Temple
I'll recommend you to visit through personal Cab/Taxi or own car instead of travelling in a local Bus, Train, Flight and sharing taxi. "Because the greatest part of a trip isn't arriving at your destination. It's all the wild stuff that happens along the way of the road trip."
JoshiCabs is a Uttarakhand based, ridesharing and personal cab service provider company, working since 2014 on all routes of Uttarakhand with affordable and unbeatable rates on one-way and round trip. You can book us from any city in this nation.
Choose your departure and destination with us and get 25% off on your first ride. Hurry Up!! Book Now!!
Distance of Ghorakhal Golu Devta
The distance of this magnificent place varies from different departures. The most popular departure points and their distance from Ghorakhal are as follows :
| Departures | Distance |
| --- | --- |
| Bhowali to Ghorakhal | 4.5 Km |
| Nainital to Ghorakhal | 17.3 Km |
| Bhimtal to Ghorakhal | 15.4 Km |
| Haldwani to Ghorakhal | 41.3 Km |
| Almora to Ghorakhal | 57.8 Km |
| Delhi to Ghorakhal | 342 Km |
Distance Chart
Why Choose Joshi Cabs?
JoshiCabs is serving since 2014, in all routes of Uttarakhand and Himachal. We started with one fleet and now we're working with 80+ vehicles.
We have 24*7 Customer Support and under 15-minute assistance on every road of Uttarakhand. Feel free to book us for your hometown visit, pilgrimage outings, weekend outings and corporate trips.
Best Hotels Near Ghorakhal
The Rates of hotels, displayed above are the lowest of all time, these are changeable with respect to time and tourism. Feel free to inquire with us before heading towards the booking.